Use Case: Slicing Chocolate
James loved chocolate. And he loved telling people about his new marketing job for a famous chocolate manufacturer.
He enjoyed the creative parts of the role, but was very disappointed to be facing a lot of spreadsheet work. James' boss explained that his marketing team needed to work quickly and could not wait for IT to build them systems.
Inherited Spreadsheets
James spent some time familiarizing himself with a series of complex Excel spreadsheets he had inherited from his predecessor. But each time he had to make a change he worried something would break.
James realized these spreadsheets had been built piecemeal, with different pieces added at different times. This made them unnecessarily complex and fragile.
He was tempted to rebuild the spreadsheets from scratch, but those same problems would just crop up again in the future. Anyway, there would be no time – James had just been given a big new project.
Best Size for Chocolate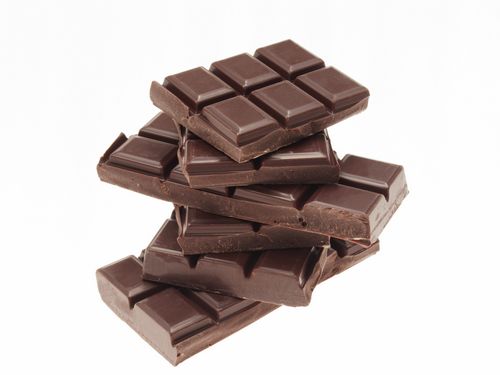 Following Easter, the plan was to introduce a much wider variety of consumer options for two of the company's main chocolates – offering a range of different sizes, multi-pack options, and limited editions.
James needed to make some recommendations on what the new sizes should be and how they should be priced – and these recommendations had to be based on data.
James was going to need approval from both the regional management and the brand management teams.
First of all, James needed all the different country teams to give him data on their pack sizes, prices, and sales for their own brands and competitors'. The normal process would be to send out a blank spreadsheet for each country to complete.
He thought this would be an ideal opportunity to use a smarter approach. James used LiveDataset to quickly create a dataset for the countries to complete.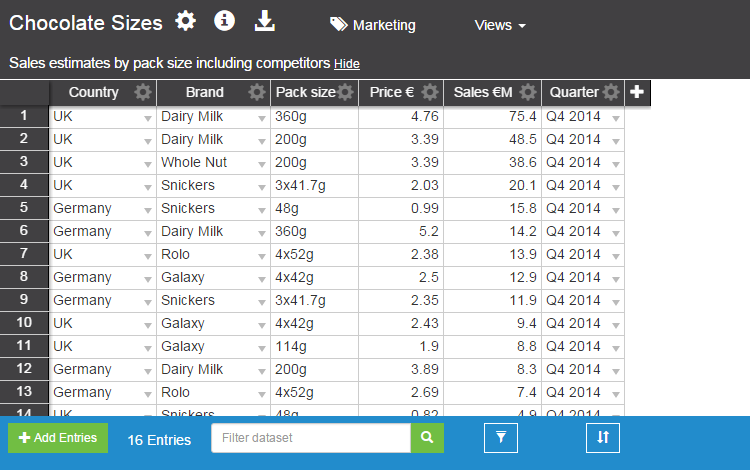 As anticipated it was much quicker for the country teams to provide this information directly into LiveDataset without James having to do a lot of cut and pasting between spreadsheets.
Slicing Chocolate
He was pleasantly surprised how easy it was to setup different slices of this data so that brand managers could focus on "their" brand or a competitor's brand across different countries…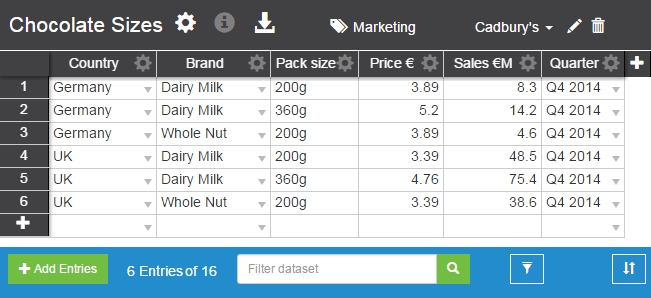 …and country managers could see all the brands but focus on just "their" country.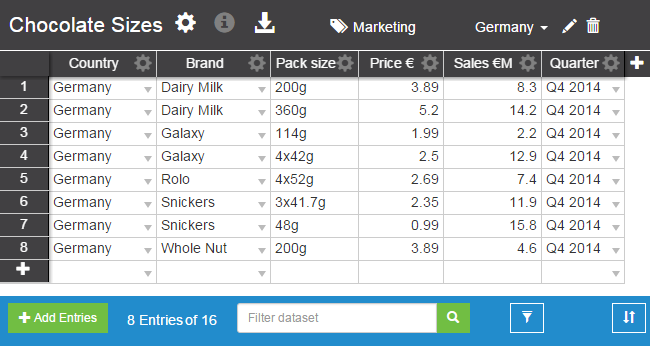 James still used Excel, but used it for what it was originally designed for. He downloaded a clean set of organized information from LiveDataset and used Excel to analyze the data and to build a forecasting model for different pack size options.
Instead of being clunky and cumbersome his new spreadsheets were powerful but clear. And when countries updated their data it was beautifully simple to import the data into Excel. James could concentrate his efforts on analysis and marketing not mindless copying data around.
More examples of how LiveDataset can be used are at LiveDataset use cases.